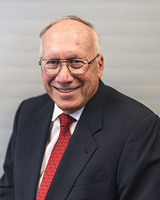 Born and raised in Detroit, Michigan. Undergraduate schooling at University of Detroit and Wayne State University studying pre-med. Podiatric medical schooling was obtained at Ohio College of Podiatric medicine in Cleveland, Ohio graduating in 1967 with a Doctor of Podiatric Medicine degree. This was followed by post-graduation surgical residency studying directly with profession wide renown podiatric surgeon Raymond Suppan, DPM at the clinics of the Ohio College of Podiatric Medicine.
After completion of all training moved to Fort Lauderdale, Florida and began a 35 year long private practice. During practice years Dr. Franklin was involved with the American Podiatric Medical Association, the Florida Podiatric Medical Association and the Broward County Podiatric Medical Association. Dr. Franklin served two terms as President of the Broward County Podiatric Medical Association. Dr. Franklin also served as director of the podiatric hospital based surgical residency program at Las Olas General Hospital in Fort Lauderdale for two terms and was a Fellow in the American Association of Hospital Podiatrists.
Throughout the practice years Dr. Franklin spoke at many varied community organizations. Dr. Franklin was deeply involved in many civic and religious organizations and served on the Board of Directors of the Broward County chapter of the March of Dimes for 25 years. Since moving to Las Vegas Dr. Franklin has been deeply involved in the L.E.A.P. Alliance to help in the prevention of amputations for diabetics.
Dr. Franklin is happily married to his wife Marlene. They have two married daughters. One living in Atlanta and one living in Fort Lauderdale along with their grand daughter. Dr. and Mrs. Franklin enjoy their two dogs and are deeply involved with Pawtastic Friends, and Dr. Franklin volunteers at the USO on a weekly basis. Podiatry has been and will continue to be of primary importance in his life.